Your Comfort, Health, & Experience Are Our Top Priority
The Dental Studio recognizes that many people do not have positive associations with the idea of "going to the dentist". Our primary purpose is to reverse the negative stereotypes associated with dentistry. We achieve this goal by combining the highest levels of customer service and utilizing the latest technologies available that make dental care more comfortable and minimize your number of visits.
At The Dental Studio it is our core belief that, if given the choice, most people would prefer to have less surgical care than more. Yet historically in dentistry we have been a very reactionary profession. Generally speaking, we would wait for cavities to develop, we would "drill and fill" then wait for it to crack 10-20 years later and grind it down for a crown. Occasionally this would then lead to the need for a root canal which further destroys the tooth. This was not a recipe for success! Thankfully, due in great part to many advanced technologies, the days of waiting for decay to occur are over.
Now through the process of "bioluminescence" we can help you understand your risk for decay long before cavities ever form. If you are found to be at high risk for decay we can treat your mouth with neutralizing rinses that not only freshen your breath, but kill off the bacteria that cause decay!
Minimally Invasive Dentistry is not just about stopping decay, however. Technology is now allowing us to understand your risk for gum disease before you have bone loss or inflammation. Preventing gum disease not only improves the chances that you'll keep your teeth, but it helps decrease your risk for other health-related issues such as heart disease, stroke and diabetes.
This is a concept that follows a general common-sense belief that understanding risk for disease is far more effective than monitoring for symptoms of disease. Or more commonly stated: An ounce of prevention is worth a pound of cure!
Best of The Best
We believe that when you are educated about your oral health issues, you will pick the best treatment options for yourself. That is why at The Dental Studio you will always be treated by the best staff in the industry who have your goals in mind.
We will consistently provide for you the best quality treatment available using the best materials. You deserve nothing less! The only way to truly appreciate what we mean is to experience it for yourself.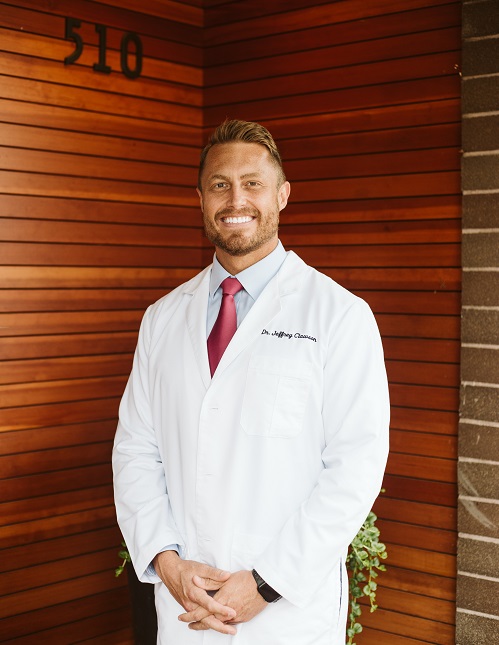 What Our Patients Are Saying
I've enjoyed both of my visits to the Dental Studio. The facility is clean and beautiful. The staff are so friendly and helpful and Dr. Ebel is informative, kind and efficient. I could almost say I look forward to going! I've never been one to say I enjoyed much of anything about the dentist, besides my teeth being taken care of, but they really go above and beyond to make your time there comfortable and memorable. I can't recommend them enough! I'm so happy to have found this place!
– Jessica Day | From Google

This is easily the best dental office I have ever had the pleasure of attending. The staff are vibrant and happy, and prefer to converse with all of their patients as often as possible. I never expect to leave a dentist office with laughs and smiles, but it happens every time anyway. ? I cannot recommend the Dental Studio enough!
– Jeremy Spray | From Google

Just love my dentist, Dr. Clawson. Not only does he do a great job with any dental issues I have had, he is also funny and personable. All the staff are extremely helpful, the hygienists are very careful and I have never been in pain. I recommend this dentist to everyone!
– Meghan Harvey | From Google

Had a fantastic experience at The Dental Studio! From the moment I was greeted at the front desk all the way through. Carly, my hygienist was very thorough and explained everything she was going to do in a very calming and professional manner. Dr. Ebel was wonderful too – extremely good "chair side manner." If I could give more stars, I would!
– Michele Girard | From Google

Hours
Monday 8:00am - 5:00pm
Tuesday 8:00am – 5:00pm
Wednesday 10:00am – 7:00pm
Thursday 8:00am – 5:00pm
Friday By Appointment Only
Our Location
Address
The Dental Studio
510 4th St.
Lake Oswego, OR 97034
(Across from the Lake Oswego Post Office)